Why Study with OET Online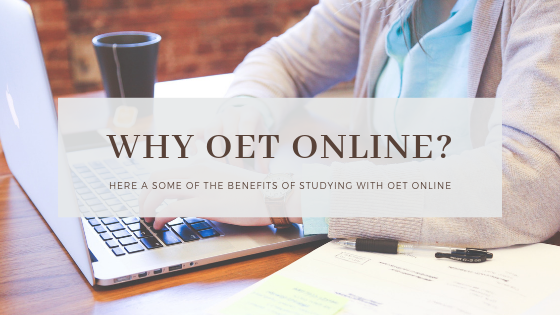 VIRTUAL CLASSES WORLDWIDE
Study online from the comfort of your own home with our amazing virtual classes, which are live and interactive and scheduled at a time suitable to your region. Video lectures available On Demand so you never miss a class.
 TEACHER SUPPORT
Our friendly OET Online teachers and will guide you and provide expert advice based on years of experience to ensure you are well prepared and your questions are answered.
 GROUP CLASSES IN BRISBANE
Located in the Brisbane CBD, our intensive 3-week and 6-week group classes provide thorough and detailed preparation leading up to each exam
 OFFICIAL PREMIUM PREPARATION PROVIDER
We have been officially endorsed by the OET Centre, guaranteeing exam quality preparation material for all professions.
 FLEXIBLE LEARNING
Online education allows you to study at a place and time that suits you. This means you can organise your study around your other commitments such as work and family.
 UP-TO-DATE RESOURCES
OET Online courses are continuously updated to keep up with any changes to the OET exam format, and to ensure students are fully prepared.
 NETWORKING
You don't have to study alone by yourself! And as the saying goes, two heads are better than one! Through our online forum, you will be able to meet, communicate and study with your peers in Australia and all over the world.
 PROVEN TRACK RECORD
Since 2008, OET Online has helped thousands of health professionals pass OET. We would love to help you achieve your goals!
 SAVINGS
OET Online courses are well priced and deliver a lot in terms of quality content and highly experienced teachers who focus only on OET.
Last modified: Wednesday, 28 November 2018, 5:48 PM